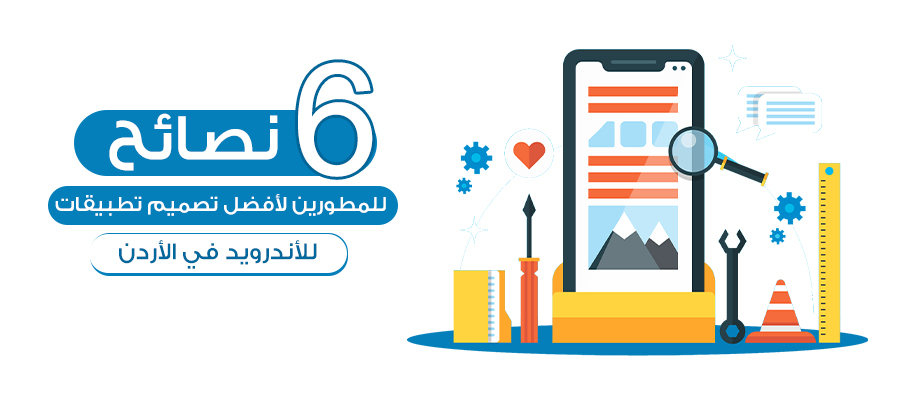 6 tips for developers for the best design applications for Android in Jordan
The development and design of Android applications in Jordan, for example, is no longer an alternative, but has become essential for brands, marketing and sales, for all companies working in the field of e-commerce, entertainment, online retail, education and health care. It is either looking for mobile app developers for hire or to create an offshore application development team in India to stay ahead of the competition.
With the recognition of the growing smartphones and tablets of mobile phones in this technological age, almost every company is looking forward to a unique type of application development programs to reach existing and potential customers, while the team of each company is happy to take into account the development of design applications for Android in Jordan .
Jogan Solutions is an Android application design company in Jordan
Googan Solution is an online mobile application development company that offers customized applications in all areas such as games, hospitality, travel, real estate, education and many other sectors.We also offer custom mobile app developers to create mobile applications based on customer demand, where mobile app developers We have with customers all over the world.
We can also hire mobile app experts from our dedicated team.We have app developers who can develop Android (iphone) (Windows) (iOS), Windows and platform apps, so you can choose a mobile app developer with experience and skill in the platform you've chosen for your app. From Jogan Solutions.
How to become a better Android developer?
Becoming an Android developer is easy, but becoming a successful Android developer and stand out from the rest is not easy to compete for designing Android apps in Jordan.This requires a lot of hard work, dedication and perseverance to get a great deal in this job.If you Willing to make that effort, you'll surely get all the success you deserve.
Gogan Solutions offers you some scientific tips to become a successful Android application developer and a lot of great successes in this field, so if you have just decided to move to Android development or you are already working as an Android developer these tips will be suitable for you, follow us through the 6 Next Tips.
Careful learning of more applications
Android is a very large system, and it can't be memorized or recognized in two or three months.The more you learn the more you understand how much you don't know, and as a beginner it's completely natural to be afraid to miss important information by trying to build things while still in a state of Ignorance is great, but try to overcome it, so you need to get to know the things you really need to start designing Android apps in Jordan that you're currently working on, and then slowly expand your horizon.
Start reading a lot of code or code
Most developers don't take time to read what other developers are writing, and they spend most of their time writing what they already know, but that won't help you grow as an Android developer.The only way to become a really better developer is to read the previous excellent code for more experienced developers, you should start looking To open source software applications, where you'll discover a lot of coding techniques and feature apps that you had no idea about before.
Learn more programming languages
As a developer, you should learn new programming languages ​​and not stop using a single programming language.This will open up your perspective, inspire new ideas, and help you improve your Android development skills dramatically.You can start with JavaScript, the easiest and all programming languages ​​need.
Start contributing to an open source library
If you develop a library, plug-in, or any other piece of useful code and use it in your application, think about outsourcing, there is a lot to learn in the process of contributing to open source projects or maintaining your own projects. It is excellent in open source development which will greatly increase your value as a developer.
If you don't have anything open source, consider checking other open source projects that interest you, fix some errors, improve documentation, write some tests there, or help fix some code errors in the code.
Learn Coding Guidelines (Clean Codes)
You cannot ignore this, because it is very difficult to maintain standard coding guidelines for Android development when working with developers who do not write clean code, and it should not take much time to learn most of the basic coding guidelines for Android.
Spend time learning about Android best practices
To give yourself an edge over other developers and create applications that look good and work well, you need to start learning some of the best Android development practices, so we are a company Jogan Solutions interested in designing applications for Android in Jordan, we recommend that you take out your business motivations to highlight the appropriate Android application, and all this Helps you become a better developer and stand out from the crowd.